Viet Nam and Myanmar on Tuesday pledged to boost bilateral ties, particularly in trade, oil and gas, following an official visit to Myanmar by Prime Minister Nguyen Tan Dung.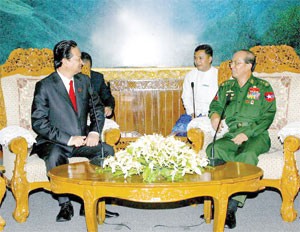 Prime Minister Nguyen Tan Dung (L) talks with Myanmar's Acting PM Thein Sein on Aug 14
Upon his arrival, PM Dung paid a courtesy visit to Sr. Gen. Than Shwe, Chairman of the State Peace and Development Council and held talks with Acting Prime Minister Sen. Lieu. Gen. Thein Sein.
At the talks, the two leaders spoke openly on their countries' respective socio-economic environment.
They were satisfied with the friendship and cooperation that the two countries have enjoyed over the past 32 years and discussed ways to expand upon the relationship.
The two sides agreed to organize the sixth session of the Viet Nam-Myanmar Joint Committee and increase bilateral ties in the fields of trade, oil and gas, transport, communications, post and telecommunications, agriculture, health, culture and education and training.
On trade, the two leaders said there remains much room for growth although they were satisfied with the 20 percent growth rate in two-way trade in 2006.
The two leaders praised the signing of an agreement on a strategic partnership between the Viet Nam Oil and Gas Group and the Myanmar Energy Ministry during the visit, describing it as a new development step in the two countries' economic cooperation.
They were happy with the Vietnam Airlines' plan to launch a Ha Noi-Yangon direct air route in November to cater for the increasing tourism demand between the two countries.
During the talks, Myanmar officials pledged to create favorable conditions for the Viet Nam Military Telecommunications Corporation, Viettel, to invest in telecom services in their country.
The two leaders expressed their determination to lift the two countries' friendly and multi-faceted cooperation to a new height for the sake of mutual benefits and for peace, stability, cooperation and development in Southeast Asia and the world.
After the talks, PM Nguyen Tan Dung and Acting PM Thein Sein witnessed the signing of a contract to explore and exploit oil and gas in Myanmar between the Viet Nam National Oil and Gas Group and the Myanmar Oil and Gas Group.