The National Steering Committee for Avian Flu Prevention and Control convened a meeting to discuss the measures of fighting against bird flu recurrence.
Although there has not been any reported outbreak for the past three weeks, the risk of bird flu recurrence was even greater due to appearance of avian influenza in the poultry population in the neighboring country, China.

The Steering Board will launch mass vaccination on poultry against bird flu nationwide in February, March and April of this year. As it is expected, the vaccination would kick off in the northern province of Nam Dinh and then the southern province of Tien Giang. Finance Ministry will spend VND80 to 100 billion to import vaccine in 2006.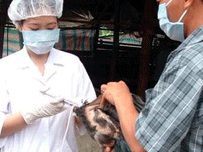 Veterinary surgeons inject a chiken.

Illegal trade and slaughtering of poultry has increased sharply, and consumers, farmers, and even some authority officials in several regions underestimated the pandemic risks.

Related Article: