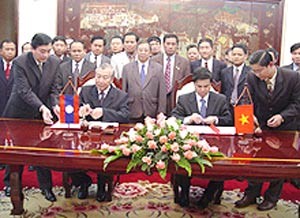 Agreement signing ceremony between Viet Nam and Laos on border cooperation in Ha Noi, Dec. 26, 2005
A delegation of Vietnamese officials was in Vientiane from December 28-31 to join an annual meeting with Laos on border issues.
The Vietnamese delegation, led by Mr. Vu Dung, Deputy Foreign Minister and Head of the Foreign Ministry's Border Department was warmly welcomed by the Lao delegation, led by Deputy Foreign Minister Phongsavath Boupha, also Head of the Laos-Viet Nam Border Committee.
The two sides discussed and agreed on cooperation in the coming time, which includes the determination to complete the demarcation of the remaining border; finalization of a project of embellishment and planting more landmarks on the Viet Nam-Laos border in a bid to submit it to the two Prime Ministers for approval for implementation in 2007.
Besides, the two sides also pledged to promote cooperation to fight drug-related crime and combat the trafficking of women and children in the common border areas, establish mechanisms to promote cooperation in investment, trade, tourism and culture between the two countries' bordering provinces.