On February 5, State President Nguyen Minh Triet left Hanoi to start an official visit to Laos at the invitation of General Secretary of the Lao People's Revolutionary Party Central Committee and Lao State President Choumaly Sayasone.
This is the first foreign visit by Mr Triet since he was elected President of the Socialist Republic of Viet Nam.
On the same day, the Presidential couple arrived in Vientiane and President Triet held talks with General Secretary of the Lao People's Revolutionary Party and President Choummaly Sayasone.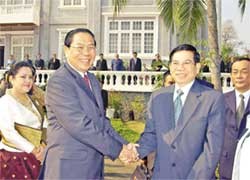 President Nguyen Minh Triet ( R ) and President Choummaly Sayasone.
The two sides showed satisfaction that during the recent period, the multi-faceted relations between the two countries have gained new and more effective developments, especially in the economic sphere, such as cooperation in building hydro power stations, exploiting mineral sources and growing industrial trees.
President Nguyen Minh Triet and his counterpart agreed that in the international and regional background with rapid changes, it is vitally important that the two countries enhance and consolidate the special solidarity and comprehensive co-operation between the two parties and states.
The two sides agreed to boost cooperation in areas where they have their own advantages and share information about regional cooperation. The two leaders vowed to continue cooperation with Cambodia to build the triangle of development between the three nations. Viet Nam also supports Laos' effort for World Trade Organization (WTO) membership.
The two leaders discussed measures to boost economic cooperation and witnessed the signing of a memorandum of understanding on Viet Nam's grant of US$4 million for Laos to build a sports training facility between the Vietnamese and Lao sports committees.
Laos will host the 25th SEA Games in 2009, so the facility is expected to be completed in 2008.
In the afternoon of the same day, President Triet also met Lao National Assembly President Thongsing Thammavong, Lao Prime Minister Buasone Bouphavanh, Sisavath Keobounphanh, chairman of the Lao Front for National Reconstruction, and other senior Lao officials.
President Nguyen Minh Triet official visit to the neighboring country will last three-days.
Viet Nam and Laos established diplomatic ties on in September 1962 and have recently exchanged high-level visits on a regular basis, showing a manifestation of their resolve to further bolster multi-faceted cooperation.
The two-way trade between the two countries in 1999-2005 reached US$2.2 billion, including US$165 million in 2005.
The figure last year alone was US$240 million, a year-on-year increase of 48%. The two countries are looking to raise it to US$1 billion by 2010 and US$2 billion by 2015.
Viet Nam exports garments and textiles, plastics, footwear, ceramics, fine arts and handicrafts, farm produce and seafood to Laos and imports from the country minerals and agro-forestry products.
On the investment front, Viet Nam is now the fifth largest among 30 countries and territories investing in Laos. In 2001-2005, 34 Vietnamese companies, including 11 joint ventures with Laos, registered to operate in agro-forestry, mining, wood industry and energy in Laos with total registered capital of US$1 billion.
Laos has seven investment projects in Viet Nam with combined capital of US$17 million