The State President and the Prime Minister of Viet Nam on July 18 met with Laos Deputy Prime Minister and Foreign Minister Thongloun Sisoulit during his official visit to Viet Nam to further intensify established multi-faceted relations between the two neighbors.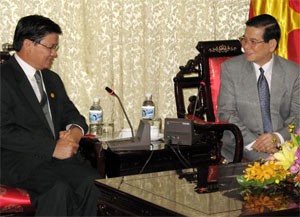 President Nguyen Minh Triet (R) receives Mr. Thongloun Sisoulit. (Photo: Tuong Thuy)
President Nguyen Minh Triet and Prime Minister Nguyen Tan Dung received Mr. Sisoulit at separate meetings at the Re-Unification Palace in Ho Chi Minh City.
The visitor, a Politburo member of the Lao People's Revolutionary Party, said in his meeting with the Vietnamese President that the Lao Party, Government and people always try to do their best to strengthen and boost Laos-Viet Nam traditional friendship, special solidarity and comprehensive cooperation.
President Triet said the two sides need to make further efforts to push their multi-faceted relations to a higher level.
"We are willing to immediately do all we can to help Laos, and this illustrates the friendship between the two countries," said Mr. Triet.
Mr. Sisoulit, who is also Chairman of the Commission for External Relations of the Lao Party, conveyed Lao Party General Secretary and President Choummaly Sayasone's invitation to visit Laos. Mr. Triet accepted the invitation with pleasure.

After this meeting, the Laos Deputy PM moved on to meet with Viet Nam's PM Nguyen Tan Dung.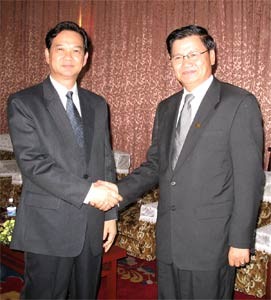 Prime Minister Nguyen Tan Dung (L) greets Mr. Thongloun Sisoulit in Ho Chi Minh City. (Photo: Tuong Thuy)
In the evening, Ho Chi Minh City Party chief Le Thanh Hai hosted a banquet in honor of the Lao Deputy PM, his lady and other Lao distinguished guests.
During his visit to Viet Nam on July 17-19, the Lao Deputy PM met with Viet Nam's Party General Secretary Nong Duc Manh, and Deputy PM and Foreign Minister Pham Gia Khiem in Ha Noi on July 17.
Mr. Manh also accepted Lao Party General Secretary and President Choummaly Sayasone's invitation to visit Laos, conveyed by Mr. Sisoulit, VNA said.
Mr. Sisoulit and his Vietnamese counterpart Pham Gia Khiem, during their meeting in Ha Noi, discussed many issues on strengthening bilateral relations.
Regarding cooperation between the two foreign ministries, they stressed that the two ministries would further promote coordination and cooperation between their units in the coming period according to their agreements, meeting demands of the two countries' external affairs, VNA reported.
About international and regional matters, the two sides agreed to cooperate with Cambodia to accelerate cooperation in the development triangle of the three countries.
Viet Nam and Laos signed an agreement on friendship and cooperation on July 18, 1977. The two countries' bilateral trade value has been increasing for years, and last year's number was US$163 million.