Prime Minister Nguyen Tan Dung and his Czech counterpart, Mirek Topolanek, on Wednesday discussed ways to further strengthen the traditional friendship and multifaceted cooperation between Viet Nam and the Czech Republic.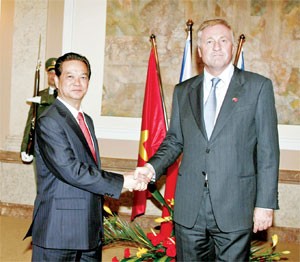 PM Nguyen Tan Dung (L) shakes hands with his Czech counterpart during his visit to the Czech Republic on Sep 12

Visiting PM Nguyen Tan Dung had a talk with the Czech PM following an official welcome for the former in Prague on the same day.

Both host and guest were satisfied with the growing bilateral ties, particularly in economic cooperation and bilateral trade turnover that reached US$130 million in 2006, doubling the figure five years ago. Czech investors have, to date, invested US$40 million in 11 projects in Viet Nam.

PM Dung and PM Topolanek agreed to urge ministries, sectors, and enterprises to fully tap areas in which they have strengths in order to raise trade value between Viet Nam and the Czech Republic in the coming time.

The two PMs pledged to continue creating favorable conditions for businesses from the two nations so they may establish direct ties and increase the exchange of information in a bid to boost trade and investment bonds.

They emphasized the need to immediately implement pacts signed in 2006, including a memorandum of understanding (MoU) on cooperation programs between the Vietnamese Ministry of Planning and Investment and the Czech Ministry of Foreign Affairs, a contract to finance the Phu Son cement plant project in northern Ninh Binh province, and another MoU on supporting seven major projects in the energy, building materials, and food processing industries.

PM Dung and PM Topolanek also exchanged views on international and regional issues of mutual concern and agreed to continue coordination at international organizations and forums. They affirmed mutual support for Viet Nam's and the Czech Republic's bids for non-permanent seats in the United Nations Security Council in the 2008-2009 term.

After their talks, the two government leaders signed a joint statement and witnessed the signing of an agreement on returning illegal immigrants and protocol on the implementation of the agreement.

Previously, during his official visit to Russia, PM Nguyen Tan Dung attended the Russia-Viet Nam Trade and Investment Promotion Forum held by the two countries' Chambers of Commerce and Industry.

The PM called on Russian businesses to invest in Viet Nam, stressing that Viet Nam always considers foreign investors an integral part of its economy.

Later, the PM witnessed the signing of some contracts and cooperation agreements worth over US$ 1 billion.