Foreign Ministry Spokesperson Le Dung has objected to the US Department of State's 2007 religion report as lacking objectivity and inaccuracy allthough it acknowledged active developments in Viet Nam 's religious activities.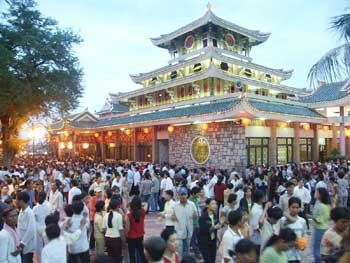 People practise religion at Ba Pagoda on Sam Mountain, An Giang Province. (Photo: Viet Dung/SGGP)
The spokeman made the remark in Ha Noi on Sept. 17 in reply to a foreign correspondents' question on the issue, reiterating Viet Nam's "unswerving policy to respect and ensure citizens' rights to freedom of worship, religion and non-religion."
Mr. Dung said these rights have been clarified in the country's Constitution and other legal documents, including the Law on Worships and Religions.
"In practice, religions in Viet Nam have received Government's attention and favourable conditions to promote their beliefs. Followers and clerics of different religious sects are allowed to exercise their beliefs in the normal way," said the spokesman.
Prior to the key issue, Mr. Dung highlighted the burgeoning relations between Viet Nam and the US in all fields and an increased mutual understanding on issues of common interests, including religion.
"Although, the annual report prepared by the US Department of State contained some unobjective findings and inaccurate assessments, it has recognised the real and positive developments on religion in Viet Nam ," concluded the spokesman