Viet Nam and Belarus agreed to further expand bilateral cooperation in industry by setting up joint ventures to manufacture and assemble MAZ lorries, diesel machines, dynamos, tractors and heavy trucks in Viet Nam.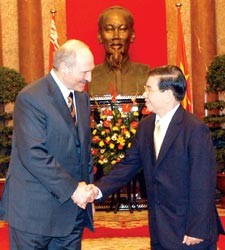 PM Nguyen Minh Triet (R) shakes hands with his Belarusian counterpart on April 7
State President Nguyen Minh Triet and his visiting Belarusian counterpart Alexander G. Lukashenko reached the consensus during their talks in Ha Noi on April 7.

The two presidents also agreed to boost cooperation in culture, education and training, oil and gas, agriculture, banking, consular affairs, tourism, health care and labor.

President Triet praised the official Vietnam visit by Belarusian President A. G. Lukashenko and his entourage as a new important milestone in the two countries' friendly and traditional cooperation.

"Viet Nam always attaches importance to the consolidation and development of its relationship with Belarus and other traditional friends while implementing its external policy of independence, self-reliance, diversification and multi-lateralization and active regional and international integration," affirmed President Triet.

President Lukashenko, who was given the State welcome ceremony earlier the same day, said he was happy to come back to Viet Nam and spoke highly of Viet Nam's renewal achievements as well as its rising position in the region and the world.

Both host and guest discussed orientations and measures to further accelerate the friendship and multi-faceted cooperation between Viet Nam and Belarus, especially in economics and trade.

The two presidents noted that apart from fine political relations, bilateral economic and trade ties have developed strongly but still not matched with their potentials.

Both sides also discussed and were unanimous in regional and international issues of mutual concern, affirmed the importance of diplomatic exchanges and praised the non-aligned stance in the current international relationship.

President Triet thanked the Belarusian authorities and people for their assistance to the Vietnamese community in Belarus and asked Belarus to continue creating favorable conditions for overseas Vietnamese to live and work in the country.

After the talks, President Nguyen Minh Triet and his Belarusian counterpart A. G. Lukashenko signed a Viet Nam-Belarus joint communiqué.