Viet Nam has asked the Russian government to facilitate the business activities of Vietnamese people living there by issuing residency approvals and work permits and by accelerating the process of business transition so they can live and work there legally.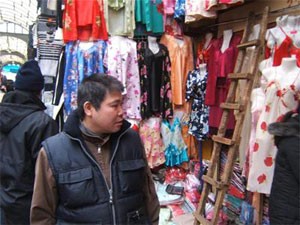 A kiosk of Vietnamese people at a market in Russia

Le Dzung, spokesman for the Vietnamese Ministry of Foreign Affairs, fielded questions from Vietnamese correspondents on Tuesday about Vietnam's reaction to the Russian Federation's revisions to labor and immigrant policies.

He added that Viet Nam respects Russia's decisions regarding the toughening of these policies, especially a bill restricting or banning foreign retailers from markets and kiosks there.

Some 80,000 to 100,000 Vietnamese people are currently living and working in Russia and some 300 companies have been established by them either as private enterprises wholly funded by Vietnamese in the region or joint ventures with local businesses.

The Vietnamese community living in Russia has actively contributed to the development of trade relations between the two countries.

Recently, the Vietnamese Embassy in Russia provided translations of the country's revised immigration policies, specifically those relating to the ban on foreign retailers, to the Vietnamese community there for reference and study.

Embassy officers also met with Vietnamese residents there to listen to their experiences and thoughts regarding the new regulations.