Vice State President Truong My Hoa gave her blood at a charity festival held in Ha Noi on April 4 as a call for blood donation on the occasion of the Voluntary Blood Donation Day.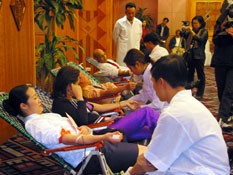 Thousands people register to donate their blood
More than 2,000 people registered to donate their blood at the event.
According to Associate Prof. Nguyen Anh Tri, Director of the Haematology and Blood Transfusion Institute, the country needs more than 400,000 blood units (a blood unit is equal to 200ml) this year, which means there should be nearly 1 million blood donors. However, blood donation has not become a widespread movement..
The institute now has 1,800 blood units in reserves which will run out as students who account for almost 55 percent of the total amount will have vacation soon.
In 2000, Prime Minister Phan Van Khai marked April 7 as Voluntary Blood Donation Day to promote the importance of safe blood transfusions

Source: VNA