The Vietnam Farmers Association (VFA) will strictly oversee the compensation paid by Taiwanese MSG company Vedan to farmers in Ho Chi Minh City and neighboring province of Ba Ria-Vung Tau, to ensure that appropriate damages are paid to farmers affected by the company's untreated wastewater, the association's vice chairman Nguyen Duy Luong said August 10.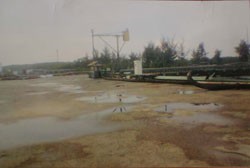 The Thi Vai River has been contaminated by waste water discharged from a Vedan Vietnam plant. (Photo: Dan Tri)
Vedan has agreed to pay affected farmers in Ho Chi Minh City VND45.7 billion (US$2.4 million) and those in the southern province of Ba Ria-Vung Tau VND53.6 billion (US$2.8 million).
 
The compensation is supposed to take place August 17, 2010 and in January of 2011.
 
Involved localities have been asked to provide the company bank account numbers for transferring the compensation and banks will act as a guarantee for those funds.
 
The localities will calculate and make plans to deliver damages to affected farmers based on the amount they are due to receive from Vedan.
 
Mr. Luong said the association would closely monitor the payment of compensation to ensure that the proper payees receive appropriate damages and to prevent misusing funds.
 
"It is the farmers' money, affected households have to receive exact compensation which they are eligible for," he added.