Veggie prices in the Mekong delta in these days have increased continuously because the region is entering "rising-water" season, farmers can't grow veggies in some areas plus continuous rains in recent months.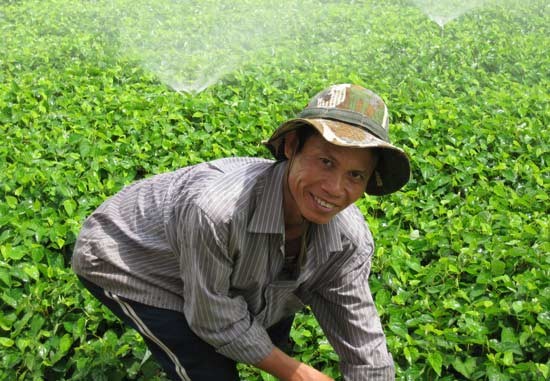 Veggies farmers are elated because prices of veggies leap
Director of the Tan Binh Cooperative in the Mekong delta Province of Vinh Long's BInh Tan District Nguyen Cao Mien yesterday said that vegetable prices soared without stop. For instance bitten melon rose to VND20,000- 24,000 per kilogram; tomatoes leaped to VND22,000-25,000 a kilogram; cabbage increased to VND16,000 a kilogram; and  scallions up to VND17,000 per kilogram. Veggie prices hit this year's record.

The "rising water season" and then continuous heavy rains in the region, flood in the central Vietnam also affect on the prices of veggies.

Meanwhile, Japanese sweet potato farmers in the Mekong delta provinces of Vinh Long and Dong Thap are elated because the prices of the potato for export fluctuated from VND700.000 per quintal offering farmers profit of VND40- 50 million a hectare after excluding expenditure.

In related news, the Ministry of Agriculture and rural Development said the export of veggies and fruits in October grew impressively to reach nearly US$2 billion, an increase of 30 percent compared to the same period and exceeding the figure of 2015 of  US$1.8 billion.
With such growth, it is expected that veggie and fruit export turnover will reach US$2.4-2.5 billion in 2016.