Vedan Vietnam Enterprise Corp., Ltd agreed August 11 to compensate farmers in Dong Nai Province nearly VND120 billion (US$6.3 million).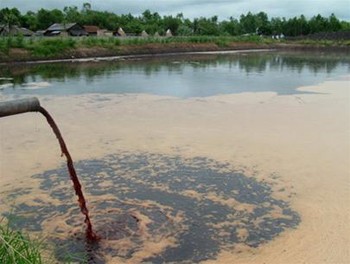 A pipe releasing Vedan's untreated wastewater to Thi Vai River in Dong Nai Province
In a document the company general director Yang Kun Hsiang sent to the province People's Committee yesterday, affected farmers in Long Thanh and Nhon Trach districts will receive the indemnity calculated by the Institute of Natural Resources and Environment.
Vedan suggested paying the money in two stages. The company will release 50 percent of the compensation within a week, beginning from the date the province People's Committee issues the approving paper. The second stage will be from January 10-14, 2011.
It was uncovered in September of 2008 that Vedan had been releasing untreated wastewater to Thi Vai River for many years. Over the next two years, the company continually haggled over how much they would be willing to compensate farmers in HCMC and Dong Nai and Ba Ria-Vung Tau provinces.
After farmers submitted papers to local people's courts to sue the company and supermarkets began boycotting Vedan products, the company finally agreed to 100 percent of the compensation calculated by the institute for farmers.
On August 9, the company approved compensating farmers in HCMC and Ba Ria-Vung Tau Province to the tune of VND45.7 billion (US$2.4million) and VND53.6 billion (US$2.8 million) respectively.
Related article:
Vedan agrees to compensate farmers
VFA to ensure farmers receive proper compensation from Vedan