Public concerns have been raised as the Vietnam Energy Association (VEA) has submitted an official document to the Prime Minister to propose to raise electricity price. Both Electricity of Vietnam (EVN) and the Vietnam National Coal - Mineral Industries Group (VINACOMIN) have made explanations on the matter.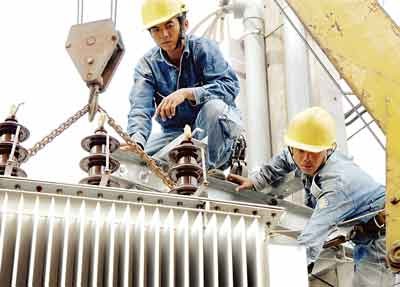 (File) Electricity workers make maintenance jobs (Photo: SGGP)
EVN and VINACOMIN say they think it is better to raise from 5 US cents (VND1, 058) per kwh to 8 US cents.
The shortage of electricity is the consequence of low electricity price, according to EVN's general director Dao Van Hung.
It is time to raise electricity tariffs, Mr. Hung added, saying that the current low tariffs dissuade domestic and foreign enterprises from investing in power generation.
He complained the hike in equipment, payment and construction materials price lead to a must that Vietnam should increase power.
In addition, the company must buy power over VND5,000 per kWh but it sells to customers at VND600 per kWh or at maximum of VND1,700 kWh, Mr. Hung said, it means the company to loss around VND3,300 per kWh or a big loss in the general.
This also leads to the limitation to buy power, Mr. Hung stressed.
Meanwhile VINACOMIN's General Director Tran Xuan Hoa said his company sell electricity to two thermo-power plants of the electricity sector at low cost, which can't subsidize for purchasing coal to generate electricity.
He proposed the government and the Ministry of Industry and Trade to lifeup the power price. However, the Ministry of Finance had before refused to soar prices of electricity, essentials goods and coal for generating electricity, pledging to maintain prices until the end of the year to a stabilization in domestic markets.