A Vatican delegation led by Monsignor Pietro Parolin, the Vatican Under-Secretary of State for Relations with States, recently paid a working visit to Viet Nam.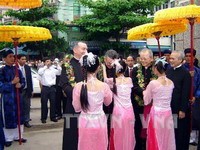 The Vatican dignitaries visit Viet Nam from March 5 to 11

During the visit, the Vatican dignitaries held working sessions with a Vietnamese delegation headed by Nguyen The Doanh, Vice Head of the Government Committee for Religious Affairs. The Vietnamese delegation was accompanied by officials from the Foreign Ministry.

At the working sessions, Vatican representatives were briefed regarding Viet Nam's renewal efforts in terms of culture, the economy, social affairs and diplomacy over the past few years, especially in 2006.

They were also brought up to date on the government's policy respecting and ensuring the freedom of beliefs and religious practices in Viet Nam, especially regarding Catholicism. Also highlighted were the immense gains made from the implementation of policies regarding national unity.

In response, Vatican officials spoke highly of the achievements that Viet Nam has obtained during the course of its development and renewal process.

They congratulated the country for its admission to the World Trade Organization and welcomed the positive outcomes Viet Nam has achieved in all domains of society, including religious affairs.

The two sides also discussed a number of issues concerning Viet Nam's Catholic Church and other matters of mutual concern.

They agreed that the meeting between Prime Minister Nguyen Tan Dung and Pope Benedict XVI and other senior Vatican officials on January 25, 2007 was an important event in relations between Viet Nam and the Vatican.

Viet Nam welcomed all initiatives proposed by the two sides that aimed at boosting mutual relations for the sake of peace, stability, and development.

Government officials also suggested that the diplomatic agencies of both sides meet to discuss bilateral ties.

As a follow-up to the meetings, a joint expert team, including representatives from both sides, will be established to exchange, study and come to agreement on proposals regarding the fundamental principals of relations between the two sides.

Viet Nam emphasized that the team will also work on specific measures to make relations develop in an appropriate and positive manner in the future to be mutually beneficial to the maximum extent possible.

Vatican officials positively acknowledged Viet Nam's proposals.

During their stay in Viet Nam, Vatican representatives met with officials from the Viet Nam Episcopal Council of the Viet Nam Catholic Church.


They also met with the People's Committee of Binh Dinh province, visited the office of the Bishop of the Quy Nhon Diocese and attended Masses held at the main Church and the church of Go Thi parish in Binh Dinh province.

Wrapping up their tour, they paid a visit to the world heritage site at Ha Long Bay and attended a Mass organized at the Hon Gai parish's church in Quang Ninh province where they were welcomed solemnly by provincial leaders, officials of relevant agencies, bishops, priests, clergymen and followers.