Forty highly valuable Narra Padauk trees have recently been cut down in Yok Don National Park in the Central Highland Province of Dak Lak, a source from the park informed yesterday.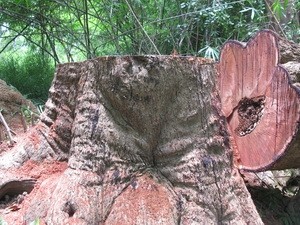 A felled Narra Padauk tree in Yok Don National Park (Photo: VNA)
The trees have been chopped down regardless of any permission by the forest management department of the park. Many of the felled Narra Padauk trees were mature trees with diameters of 1.2-1.5 meters.
The Narra Padauk tree is a deciduous tree species. Its hardwood is termite resistant and rose scented. It is highly priced in the furniture making industry.
The trees were felled soon after officials from the Ministry of Agriculture and Rural Development and the provincial authorities had completed their inventory and estimation of the deforestation conditions in Yok Don National Park.
According to the People's Committee in Buon Don District, one of the three districts in which the park is located, since early this year forest officials have uncovered over 100 deforestation cases and seized 300 cubic meters of valuable wood.