Local authorities must complete a poutry vaccination plan before October 1, which is a part of the Ministry of Agriculture and Rural Development's guideline at the national meeting for avian influenza and cattle diseases prevention and control on September 11 in Ha Noi.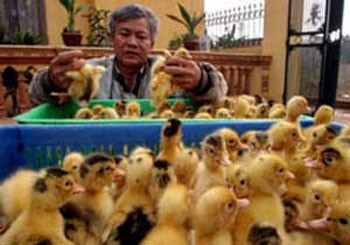 Poutry vaccination must be completed before October 1
Under the guideline, municipal and provincial people's committees' chairpersons will be held accountable for their district vaccination task.
The ministry announced that an additional 100 million vaccine doses will be imported. In addition, the government will provide vaccines for only disadvantaged regions - not for all.
Leaving the guideline but sticking to the subject, World Health Organization (WHO) informed that though rare, instances of limited human-to-human transmission of H5N1 and other avian influenza viruses have occurred in association with outbreaks in poultry and should not be a cause for alarm. In no instance has the virus spread beyond a first generation of close contacts or cause illness in the general community.
Data from these incidents suggest that transmission requires very close contact with an ill person. Such incidents must be thoroughly investigated but – provided the investigation indicates that transmission from person to person is very limited – such incidents will not change the WHO overall assessment of the pandemic risk.
There have been a number of instances of avian influenza infection occurring among close family members. It is often impossible to determine if human-to-human transmission has occurred since the family members are exposed to the same animal and environmental sources as well as to one another
In related news, on the same day, the ministry insisted its Animal Health Department, in coordination with relevant agencies, build a program against rabies in humans and animals. The government will inspect how well the task is carried out within the country.
The departments of Agriculture and Rural Development nationwide must ensure the vaccination proportion of over 80 percent of cats and dogs.
Viet Nam has had 81 rabies fatalities this year.