Deputy Prime Minister Vuong Dinh Hue and related agencies yesterday discussed on the implementation of credit package of VND100 trillion (US$4.34 billion) from commercial banks' called-up capital for high-tech agriculture development loan.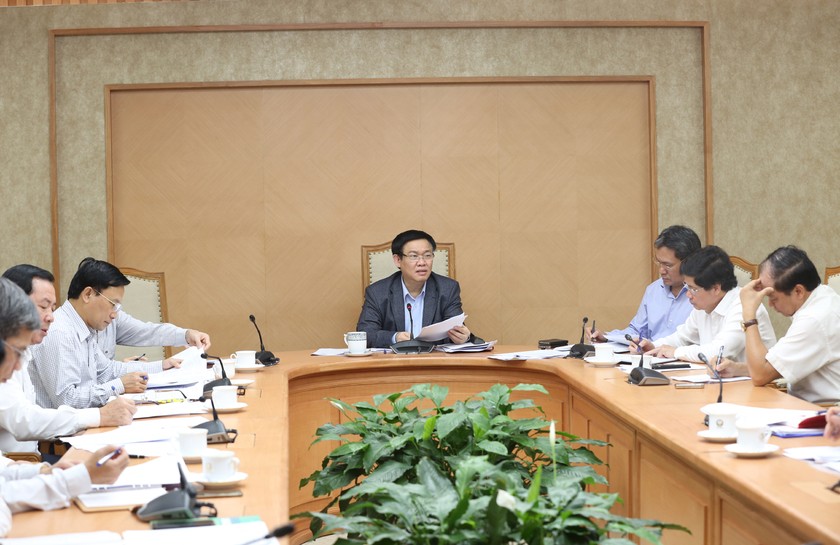 In the meeting (Photo: SGGP)
Borrowers will enjoy lower interest rate from 0.5 to 1.5 percent compared to the interest rate levels in the domestic market.
Deputy Governor of the State Bank of Vietnam Nguyen Dong Tien said banks have collected VND3,700 billion from 25 enterprises certified by the Ministry of Agriculture and Rural Development as high-tech agricultural enterprises.
Agribank said that it has implemented farm credit package of VND50 trillion and VND 400 billion has been disbursed to 14 clients at lower interest rate compared to normal rate from 0.5-1.5 percent. Vietcombank has signed a credit contract of VND500 billion for safe egg production.
However, to get success from the credit package, many deeds need to be done. Deputy PM Hue said that banks must verify the capability of enterprises and the scope of hi-tech, fresh agriculture and others.
He proposed matters related to credit policies for long-term or short-term and others. In addition, many matters were put forward in the meeting by the Deputy PM.
Subsequently, Mr. Hue asked the related agencies to verify those who are really in need of capital. Since the years, the country has attracted more than 20 enterprises to take part in hi-tech agriculture.
Director of Agribank Tiet Van Thanh complained of unclear planning of seedlings in each localities, late issuance of certificates for hi-tech agriculture NNCNC, land value assessment as mortgage and registration certificates of agriculture land use while these are a person's big property.
To sum up, Mr. Hue stressed the important role of the credit package for hi-tech and fresh agriculture as per the Party, the National Assembly and the government's Resolution in  the time when agriculture sector has not developed steadily.
When the government announced the credit package, it has received big support from enterprises and residents; accordingly related agencies must implemented rightly,  added Mr. Hue.
The State Bank of Vietnam (SBV) is assigned to instruct other banks to implement the credit package as per the PM's directive before there will be a new regulation on the second quarter 2017. Governor of SBV must consider which enterprises can partake in the package.
SBV asked commercial banks to cut expenses to help reduce interest rate for hi-tech agriculture companies and banks should increase information of the credit package to help more people access to the package transparently.
SBV and the Ministry of Agriculture and Rural Development will monitor the implementation process of the program. Besides,

The Ministry of Agriculture and Rural Development should liaise with local authority to plan areas for hi-tech agriculture, for breeding key animal, and planting trees and the Ministry of Finance will soon propose the policies of agriculture insurance.