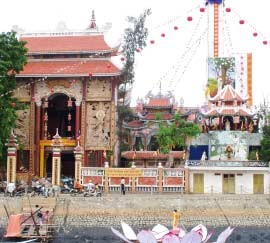 A pagoda in Ho Chi Minh City is decorated for Buddha's birthday, the 15th day of the fourth lunar month (Photo: Tuong Thuy)
Viet Nam has made progress on improving religious freedom, and that is why the US started the talks with Viet Nam again, Barry Lowenkron, US Assistant Secretary for the Bureau of Democracy, Human Rights and Labour, told reporters after the talks in Ha Noi.
The talks between Viet Nam and the US  on issues of human rights and religious freedom were resumed on February 20, 2006 in Ha Noi.
Vietnamese representatives said they are willing to talk straightforwardly with the US on these issues.