The US Consul General in Ho Chi Minh City, Kenneth J. Fairfax, accompanied by his cultural and press attaché, Patricia D. Norland, visited the headquarters of Sai Gon Giai Phong newspaper on Thursday and chatted with editor-in-chief Duong Trong Dat.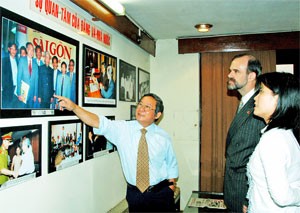 Sai Gon Giai Phong editor-in-chief Duong Trong Dat shows the US Consul General some photos about SGGP

Mr. Fairfax described SGGP as one of Viet Nam's leading newspapers and said it had made considerable contributions to popularizing the leadership role of the Vietnamese Communist Party and the State in the country's global integration.

Viet Nam's media, he said, was progressing both in scale and structure and proving its dynamism in giving information and a voice to the public.

Mr. Duong Trong Dat briefed the American diplomat on the newspaper's organization and plans for the future.

His guest replied that SGGP was always abreast of the latest developments and trends, and praised the newspaper's achievements. He also spoke highly of Viet Nam-US relations and asked that the press would help the two peoples learn more about the growing ties between their nations.

He repeated Mr. Nguyen Minh Triet's words from the latter's trip to America that Viet Nam and the US should build up their bilateral ties, and expressed a hope that SGGP would be an effective information channel to aid in this.

On behalf of SGGP's staff, Mr. Dat thanked the US Consul General for his sincere sentiments and wished him continued success in his job here.