Fears of a severe power shortage this year have been eased since unseasoned rains brought hydropower plants nationwide back to life, while newly-built plants were put into operation as scheduled.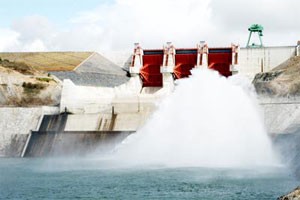 Reservoirs nationwide have been filled up by unseasoned rains
Pham Van Cuc, deputy head of the Power Project Management Board No.6, says constant heavy rains in the highland provinces early last month helped send water level of reservoir Dong Nai 3 soaring.
Le Quang Liem, deputy director of the hydropower plant Da Nhim – Ham Thuan – Da Mi , says after halting operation due to a dangerously low water level of reservoirs, the plant is now back into full operation capacity thanks to filled reservoirs.
Nguyen Khac Thuc, deputy director of the hydropower plant Hoa Binh, says the water flow of the Hoa Binh reservoir is around 4,500 cubic meters per second – the highest rate in the last ten months.
All eight generators of the plant are in full operation capacity, providing 30 million kWh per day for the national power grid, Thuc says.
Earlier, state utility Electricity of Vietnam, known as EVN, warned the water level at most hydropower reservoirs nationwide were dramatically low, which would prompt to a dramatic power shortage this year
Reinforcements

EVN announces the country's power supply has also stabilized since many newly-constructed hydropower plants were operational as scheduled. They include An Khe – KaNac, Sesan 4a and Dong Nai 3.
Thermal power plants, including Cam Pha, Quang Ninh, Hai Phong and Son Dong have been put back into proper operation after engineers fixed technical problems, enabling EVN to meet high consumption in the dry season this year.
Statistics show the country's power output in the first six months of the year increased 10.4 percent year-on-year to 52 billion kWh.
Of the amount, output in February made the strongest increase, rising nearly 14 percent year-on-year to 7.2 billion kWh. The output in June was expected to move up by 12.6 percent year-on-year to 9.3 billion kWh.
EVN says the country's power consumption has not increased as much as expected so far this year thanks to the government's efficient measures on curbing accelerating inflation.
Vu Huy Hoang, Minister of Industry and Trade, says EVN has made great efforts to restore the stability of the country's power supply.
The Electricity Regularity Authority of Vietnam says in a report that hydropower plants is expected to make a surplus of around 3-10 percent of the total output in the final two quarters.