Rampant substandard moon cakes available in market have raise public concerns. Many people have bought unsafe moon cakes without clear indication of origin and manufacturers' addresses from mobile vehicles in streets.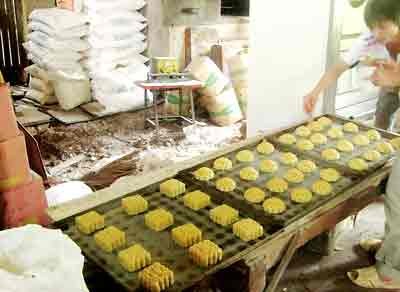 Moon cakes made in dirty places (Photo: SGGP0
Ms. Nguyen Ngoc Trang in Huynh Tan Phat Street, district 7 bought two moon cakes from a street shop; however, the cake smelt musty. According to Ms. Trang, unsafe moon cakes are sold in a three-wheel taxi in the crossroad Huynh Tan Phat- Nguyen Thi Thap in the afternoons. The vendor told her just because there have been mistake in the packaging process, cakes must be sold at very cheap prices.
A cake is sold at VND12,000 and customers would be given a plus cake if they bought three.
In an effort to curb the seemingly rampant sales of decaying and cheap cakes in markets Hoa Binh, An Dong in district 5, Binh Tay in district 6, the Department of Food Hygiene and Safety in coordination with the city's Department of Health conducted unscheduled inspection to small-scale workshops which have produced cakes in dirty places and used substandard materials.
Nevertheless, they hardly discovered wrongdoings because nearly 200 small factories in the city which skillfully hid their mistakes.
A medical worker of the Children Hospital No.2 said his hospital has received over 10 children suffering from diarrhea due to eating unhygienic cakes.
Hanoi Department of Health and local government in Xuan Dinh craft village have strengthened supervision to over 40 production households. The village reportedly supplies around 500 tons of moon cakes to market.
Health inspectors detected violations in food hygiene and safety regulations at four households to manufacture cakes.
Health authorities and market management board will increase the inspections to workshops in the village, especially inspectors will keep tabs on ingredients, additives, preservatives and materials, said Hanoi's Market Manager Hoang Dai Nghia.
In addition to checking home-made cakes, health inspectors will oversee foreign-made varieties.