The heavy flooding last month badly damaged hundreds of kilometers of river embankments in Quang Binh and Ha Tinh, leaving more than 95,000 families in danger of losing their homes to landslides.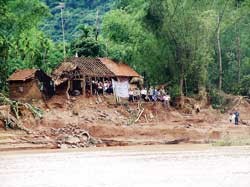 Riverbank collapses along the Gianh River
Already there have been several riverbank collapses along the Gianh River, where the damage is worst.
 
Ha Tinh has 29 lines of embankment, most of them built by hand, to protect 243,380 residents and 75,400 hectares of farmland along the river. 
 
After the August floods, these systems were in poor condition and the residents now live with the constant threat of landslide hanging over their heads. 
 
In Quang Binh, two hundred kilometers of embankment was severely damaged by the floodwaters, and more than one hundred sea gates that keep salt water out of the irrigation canals were wrecked or swept away. The entire system needs a complete overhaul. 
 
To upgrade the embankment systems in the two provinces properly, the local authorities need to find a minimum of VND2 billion (US$130,000). Because money is in short supply, some of the walls have been repaired by hand as a makeshift measure.
 
Mr. Nguyen Ngoc Giai, who heads the Quang Binh Committee for Flood Control and Protection, says the land in more than six spots along the Gianh River is in imminent danger of falling into the river.
 
To make matters worse, the local weather bureau reckons at least four more storms will hit Quang Binh before the end of the year.
 
The provincial authorities have warned riverside dwellers to keep away from the most dangerous places and try to move elsewhere to live.
 
That's easy to say but most of these people are too poor to restart their lives in another place.