Attending the opening ceremony were Prime Minister Nguyen Xuan Phuc, President of Myanmar Win Myint, Nepal Prime Minister KP Sharma Oli, Vice President of India Venkaiah Naidu, Chairman of the National Council (Upper House) of Bhutan Tashi Dorji, and Vice Secretary-General of the United Nations.

This year's event themed "Buddhist approach to global leadership and shared responsibilities for sustainable cities," also attracted nearly 3,000 delegates, including representatives of ministries, agencies and localities, and monks, nuns and Buddhist followers from 115 countries and territories across the world.
The event received more than 500 speeches by Vietnamese and international scholars that will be presented at forums and workshops in the framework of the Festival.
In his message, Vietnam Buddhist Sangha (VBS) Supreme Patriarch Most Venerable Thich Pho Tue highlighted the UN Day of Vesak 2019, as an event associated with the life of Lord Buddha and called on Buddhist followers to promote the fine values of the Buddha's teachings.

Most Venerable Thich Thien Nhon, chairman of the Vietnam Buddhist Sangha's Executive Council, Chairman of the VBS Executive Council and head of the Vesak 2019 organising committee, hoped Vesak 2019 to bring people together, create sources of inspiration, help escape misery to achieve the global prosperity and sustainable development.

Speaking at the event, Prime Minister Nguyen Xuan Phuc said the UN Day of Vesak shows the determination on peace, cooperation, friendship and Buddhist great values of the United Nations.

He wished delegates will have meaningful days to learn about the Vietnamese land, culture and people.
Most Venerable Professor Dr. Phra Brahmapundit, President of the International Council for Day of Vesak, expressed his thanks to the Vietnamese government and Vietnam Buddhist Sangha - VBS for the organization of the United Nations Day of Vesak 2019 Celebration. It is the third time the UN's commemoration of Vesak is held in Vietnam.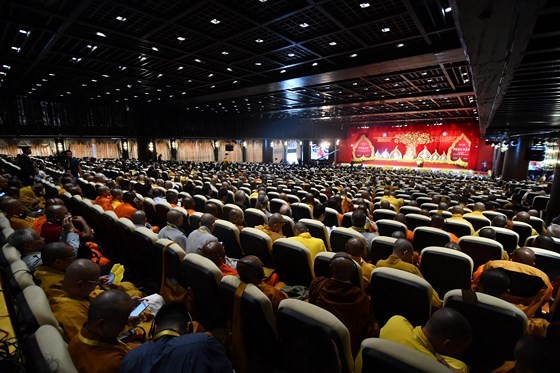 At the opening ceremony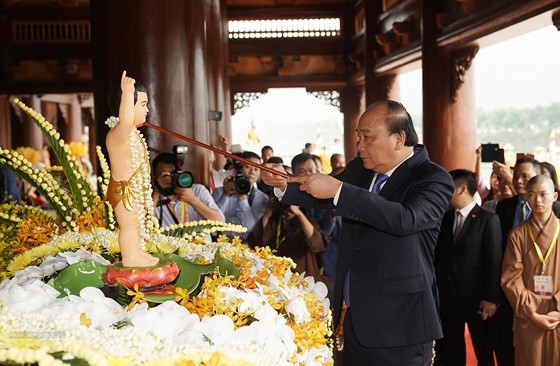 Prime Minister Nguyen Xuan Phuc performs the Buddha bathing ritual.