United Nations Development Program's new human development report themed "Social Services for Human Development" was released Wednesday in Hanoi in Vietnam.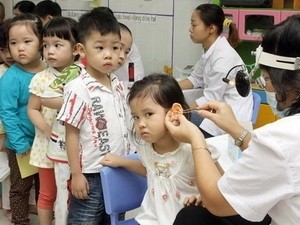 Illustrative image ( Source: VNA)
Three key indexes which are used as the basis for the analysis in the 2011 Human Development Report (HDR) are the Human Development Index (HDI), the Gender-related Development Index (GDI) and the Human Poverty Index (HPI).

This year's global Human Development Report shows that the country is in the medium human development category and ranks 128th out of 187 countries surveyed.

The HDI is made up of three sub-indexes: income (GDP per capita PPP), life expectancy, and education (adult literacy rates and gross enrolment rates). Vietnam had a higher HDI than Cambodia and Laos but a lower HDI than countries such as China, Malaysia, Indonesia, Thailand and the Philippines.
Over the last twenty years, Vietnam's HDI value has increased with an impressive 37 percent. Between 1990 and 2011, per capita income in Vietnam increased by an astonishing 228 percent. 

Iit is income growth which has made the most significant contribution to progress in the Human Development Index. On the other hand, progress in social development, including health and education, has been less rapid and has contributed less to Vietnam's HDI.
Poorer provinces saw improvements in the income, life expectancy and education indexes. Wealthier provinces continued to see significant improvements in income but slower improvements in the life expectancy and education indexes.

Vietnam has seen strong progress in the GDI, reflecting overall gains in gender equality at a national level. Vietnam is a strong performer on gender inequality in the region, but gender disparities persist especially in the household and labor market. The GDI shows that gender education gaps persist in the poorest provinces.

Especially, the report also introduces a new Multi-dimensional Poverty Index (MPI) for Vietnam based on the 2008 Vietnam Household Living Standards Survey. This is the first national non-monetary poverty index developed specifically for Vietnam.

According to this measurement, more people in Vietnam suffer from multi-dimensional poverty than income poverty. In 2008, the rate of income poverty was 14.5 percent while it was 23.3 percent for multi-dimensional poverty. The most significant deprivations people faced were availability of permanent housing and access to clean water and sanitation.

MPI headcount rates were very high in Vietnam's poorest provinces. Twelve provinces had more than half of their population experiencing non-monetary poverty according to the MPI.

Speaking at the media briefing today, Setsuko Yamazaki, UNDP Country Director, said: "I hope this report provides additional input for policy makers to make smart investment decisions for the social sector, at the national and sub-national levels, in order to achieve the full potential of human development in Vietnam."