UK Prince William and Princess Catherine Middleton (now the Duke and Duchess of Cambridge) have sent a letter of thanks to Vietnamese State President Nguyen Minh Triet for his generous present to their Royal Wedding that was celebrated on April 29.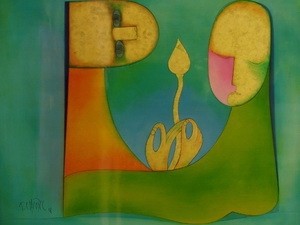 The lacquer painting President Triet send to the Royal Wedding of Prince Williama and Miss Catherine Middleton (Photo: Vietnamplus)
The letter says: "Catherine and I would like to extend our deepest thanks to you for your extremely generous gift of the lovely and unusual painting."
"It was so kind of you to think of us in this way, and we were truly delighted that you should wish to celebrate our marriage through such a wonderful gift," the Prince said.
"Your thoughtfulness and kindness have touched us both and we are humbled and honoured by your generosity," he added.
President Triet sent a lacquer painting by painter Thanh Chuong to the Royal Wedding of Prince William and Miss Catherine Middleton.
Chuong had two exhibitions in the UK in 1995 and 2001 and his works are loved by the British people.