The United Kingdom respects its relationship with Viet Nam and chooses the country as its top priority in Southeast Asia to offer development aid, the UK minister for International Development Shahid Malik told a press conference in Ha Noi.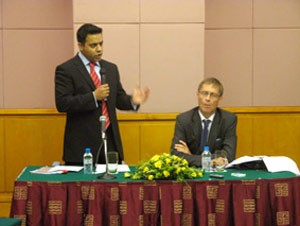 Shahid Malik (standing), UK Minister for International Development, at the press conference in Ha Noi
At the media briefing to conclude his three-day visit to Viet Nam, Mr. Malik also announced a four million pound (US$8 million) support package for the first 18 months of a new United Nations program called the One UN Initiative in Viet Nam.
"This model could be a pioneer, a model that could be used across the world so that Viet Nam, in terms of One UN, will be leading the world," Malik said.
Explaining why he has chosen Viet Nam as his first Asian country to visit, he said: "I was told that Viet Nam is the best example in the world of a country that has had to endure many conflicts and then had significant economic success."
Malik said he was very impressed by Viet Nam's achievements in hunger eradication and poverty reduction. However, he added, challenges still lay ahead, especially now that the country was a member of the World Trade Organization.
He said the UK strongly supported Viet Nam's pioneering role in strengthening the UN's effect and assistance to inhabitants, and believed that the pilot implementation of the Executive Committee's report on the UN reform in Viet Nam from now to 2010 would be successful.
At a meeting with deputy prime minister Pham Gia Khiem earlier that day, Malik discussed the progress made in implementing the Britain-Viet Nam Development Partnership Arrangement over the past year.
He told his host that the UK appreciated the Vietnamese Government's determination to fight corruption.
Deputy PM Khiem praised the UK's support for Viet Nam, especially in poverty reduction, rural transport and HIV/AIDS prevention, and said he hoped the two countries' relationship would continue to grow.
Malik said the UK had not signed a development partnership agreement with every country in the region as it had with Viet Nam.
"Our friendship and relationship with Viet Nam is exactly the reason that we signed the ten-year Development Partnership Arrangement with the Vietnamese Government," he said.
Viet Nam, one of eight pilot countries volunteering to test UN reform at the country level, is the first Asian country Malik has visited since becoming the UK Minister for International Development.