After landing in Quang Ninh, the storm changed course moving west southwest at 5-10 kilometers an hour, entered the mainland in provinces from Quang Ninh to Nam Dinh and weaken into a tropical low pressure system.
At 7a.m. on August 3, the system was centered in the Northern Midland region with strongest winds measuring level 6 moving 40-50 kilometers an hour. In the next 12 hours, it is forecast to travel west southwest at 10 kilometers an hour and continue degrading into a low pressure zone in the southern part of the Red River delta.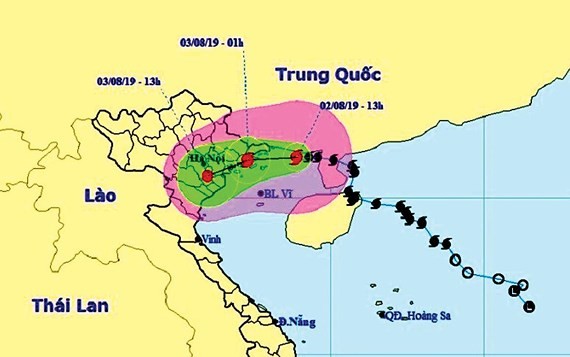 The chart show Typhoon Wipha's path (Photo: nchmf)

According to Mr. Hoang Phuc Lam, deputy director of the National Hydro Meteorological Forecasting Center, the storm will unleash torrential rains in the Northern and North Central regions. From August 3-4, these areas will see heavy rains with the common precipitation of 100-300mm each rain, it will be 200-400mm in Thanh Hoa province and the Red River delta.

The center has warned of flash flood, landslide and flooding in the aftermath of the storm. Hanoi Urban Environment and Drainage Company and Vietnam Electricity (EVN) have prepared for flooding and electrical problems caused by the typhoon in the capital city and provinces in areas where the eye of the storm sweeps through such as Quang Ninh, Thai Binh, Nam Dinh provinces and Hai Phong city.
At a meeting on August 2, the Central Steering Center for Natural Disaster Prevention and Control reported that before the storm made land fall, northern and north central provinces saw medium to heavy rains with the common rainfall of 20-40mm, some places in Dien Bien, Son La, Hoa Binh, Lang Son, Quang Ninh and Thanh Hoa saw it higher reaching 54-72mm.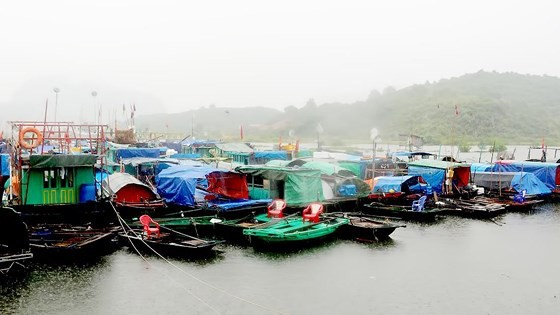 Boats anchor at Ha Phong fishing port, Ha Long city, Quang Ninh province (Photo: VNA)

On the same day the committee sent many delegations to affected provinces and cities to guide works to cope with the storm and heavy rain triggered flooding. Of these, one led by Deputy Prime Minister Trinh Dinh Dung together with leaders of ministries namely Natural Resources and Environment, Defense, Public Security, Transport, Agiruluture and Rural Development and Industry and Trade to examine anti-storm operations in harbors, tourist sites and mines in Quang Ninh.

Border army forces have also mobilized thousands of soldiers and hundreds of means to support localities to guide boats to shelters and evacuate residents out from dangerous areas in Quang Ninh, Thai Binh, Nam Dinh and Hai Phong.