'Nock-Ten' typhoon has weakened considerably upon landing on the northern province of Thanh Hoa and the central province of Nghe An by yesterday evening, with wind speeds slowing to 75-87 km per hour accompanied with heavy downpours.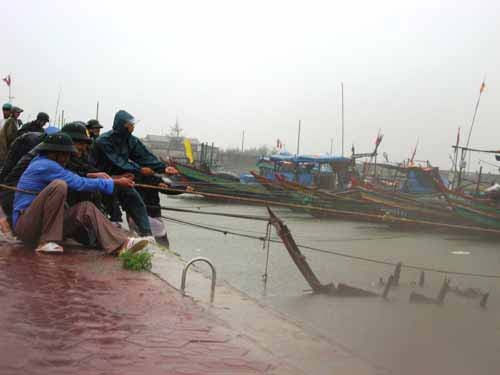 Soldiers help fishermen anchor boats before the typhoon lands (Photo: Thanh Nien)
The central province of Nghe An were however geared in preparation of the typhoon, having evacuated nearly 18,000 people from the coastal areas of Quynh Luu, Dien Chau and Nghi Loc.
68 year old, Pham Xuan Tu from Tho Son Commune in Anh Son District of Nghe An Province was unfortunately killed by electrocution caused by a power wire swaying with the wind in front of his house.
The provincial government of Ha Tinh Province has evacuated more than 2,000 residents to safe shelters as the typhoon lashed heavy rain across the province all day on July 30, leading to flooding in district cam Xuyen, Loc Ha, Thach Ha and Ha Tinh Town.
Nguyen Dang Ky, deputy chairman of Vu Quang district in Ha Tinh province said that extreme strong winds blew across their mountainous district, flattening 50 houses and destroying more than five hectares of crops.
Meanwhile, in the central province of Quang Binh, several youth collectively wrestled around-the-clock to keep 12 dams in their region from bursting, namely Mui Rong, Dong Muoi, Khe De, Thach Tuong, Thon Tam, Bau Luong, Troc Vuc, Da Lien, Ho Cao, Long Dai, Dieu Ga and Ho Be.


Prevalent weather conditions resulted in Vietnam Airlines suspending 30 flights on July 30.
Today, Vietnam Airlines will add eight more flights from Da Lat and two flights from Luangprabang, besides its regular scheduled flights. Passengers stranded due to delayed flights will be able to fly on either the regular or unscheduled flights.