Viet Nam and Russia have agreed to double two-way trade to US$5 billion by 2015 thanks to significant steps in development of bilateral relations, which was lifted to a strategic partnership 10 years ago.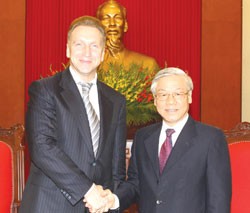 Party General Secretary Nguyen Phu Trong (R) welcomes Russian First Deputy Prime Minister Igor Shuvalov who is visiting Viet Nam. — VNA/VNS Photo Tri Dung
The target was set at the first meeting between the co-chairmen of the Viet Nam-Russia Inter-Governmental Committee on economic trade and scientific and technological co-operation since the mechanism was upgraded to deputy prime minister level.
At the meeting, Deputy Prime Minister Hoang Trung Hai and Russian First Russian Deputy Prime Minister Igor Shuvalov worked on measures to promote bilateral trade towards the target, including starting early negotiations, establishment of a free trade area between Viet Nam and the Customs Union, including Russia, Belarus and Kazakhstan, and implementation of the policy to promote import and export of their products.
They discussed and agreed on important measures to boost the traditional friendship, strategic partnership and comprehensive co-operation between the two countries.
Yesterday, Shuvalov was separately received by Party General Secretary Nguyen Phu Trong and President Truong Tan Sang.
The Russian Deputy PM affirmed the Russian government always attached importance to developing the strategic partnership with Viet Nam and expressed his belief that with both sides' efforts, all-round co-operation would be promoted and developed in future.
The Vietnamese leaders said that the working visit by Shuvalov would make practical contributions to deepening the two countries' ties, particularly as they celebrated the 10th anniversary of their strategic partnership.
In the meeting of the Inter-Governmental Committee, Deputy PM Hai and his Russian counterpart Shuvalov were pleased with expanding investment between the two countries, and committed to continue to encourage and create favourable conditions for firms from both sides to invest in each other's markets.
They emphasised the role of energy co-operation, considering it as a key strategic co-operative field for development of both countries as well as for bilateral ties.
They expressed their pleasure with the development of bilateral co-operation in oil and gas, particularly the smooth and efficient operations of the Vietsovpetro oil and gas joint venture, the newly established Rusvietpetro, Gazpromviet and Vietgazprom joint ventures in Viet Nam, Russia and third countries.
The two Deputy PMs affirmed that nuclear energy was among strategic, potential and promising co-operative areas between Viet Nam and Russia.
Deputy PM spoke highly of the signing of the agreement on Russia's provision of credit to Viet Nam to build the Ninh Thuan 1 nuclear power plant and Russia's funding for the project's feasibility report.
Both sides also agreed to co-operate in building a nuclear science and technology centre in Viet Nam.
The two sides agreed to step up co-operation within the ASEAN-Russia co-operative mechanism framework and the Asia-Pacific Economic Co-operation (APEC) forum in the context of Russia hosting the APEC Summit in 2012.
After the meeting, the two Deputy PMs signed documents on their meeting and witnessed the signing of co-operative documents in industry, finance and credit, nuclear technology and agriculture.