More rare orchid specimens have been discovered in Viet Nam, including one never before recorded in the country. Malaxis Colophylla (Ai lan la dep) and Aphyllorchis Montana (Am lan nui) were both found by biologists working for Wildlife At Risk (WAR) on the island of Phu Quoc during a recent botanical survey.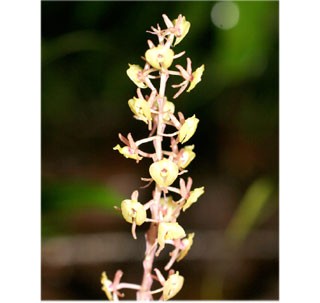 Malaxis Calophylla is found for the first time in Viet Nam(Photo:Vu Khoi)
Malaxis Calophylla, found for the first time in Viet Nam, is a rare species, while Aphyllorchis Montana is classified as "data deficient" by acknowledged experts. Only one specimen of each plant was found and therefore need to be carefully protected.
WAR's consultant biologist Ly Tho believes that Phu Quoc will reveal other botanical secrets with more intensive and widespread surveys.
In-depth surveys on animals and plants have yet to be conducted in many parts of the national park or on Phu Quoc's smaller offshore islands.
The WAR-sponsored surveys on Phu Quoc are an integral part of a larger conservation program begun in early 2007, in collaboration with Phu Quoc National Park, which aims to protect the island's rich natural resources, a vital part of Viet Nam's biodiversity.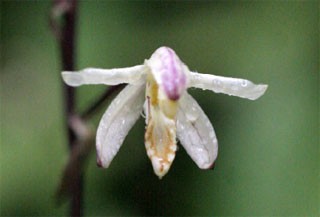 Aphyllorchis Montana(Photo:Vu Khoi)
During an earlier survey in May this year, a rare species of slipper orchid, Paphiopedilum Callosum, was recorded in Phu Quoc National Park, another first for the island.
Of the three rare orchids recorded in Phu Quoc since May, one is a new record for Viet Nam, one is heavily exploited in other parts of the country, and all three are faced with extinction.