An unidentified fish, suspected to be a shark, attacked two women on May 19, in the central coastal province of Binh Dinh while they were bathing.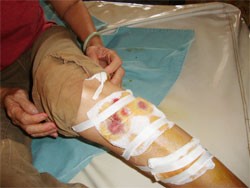 Thao shows her wounds in the leg (Photo: Thanh Nien)
Two victims, Truong Thi Tanh, 60, and Nguyen Thi Thu Thap, 58, both Quy Nhon City residents, received emergency medical care at the local Army Medical Hospital No.13.
Ms Tanh told people she panicked after the fish bit her left leg, called out for Ms. Thao to help her.  Thao received her bite while attempting to rescue her friend, approximately 5-7meters from the shore.
Ms. Thao said the fish looked like a shark and estimated its weight as between 20-30 kilograms.
Ms. Thao suffered three bite wounds under her left knee. The hospital discharged her after doctors dressed the wounds. Ms. Tanh wounds were more severe, necessitating a two-hour surgery to restore broken sinews that kept her hospitalized for further treatment.
Six people have fallen victims to the unidentified fish at Quy Nhon beach since July of 2007 and anglers have caught two sharks and one dogfish shark in the same area.
Nguyen Huu Hao, chief of Binh Dinh Provincial Bureau for Aquatic Resources Exploration and Protection, called for the evaluation of lobster breeding farms and offshore boats, which tend to attract fiercer breeds of fish.
Thai Ngoc Bich, chairman of Quy Nhon City, said the local government has taken actions, including offering a reward to those who could catch the unidentified oceanic culprit, setting up rescue stations along the beach, as well as authorizing the purchase of equipment designed to discover dangerous fish, in an effort to protect visitors.