Tung Anh Commune in the Duc Tho District, in the central province of Ha Tinh has improved standard of living due to the New Rural Development Plan.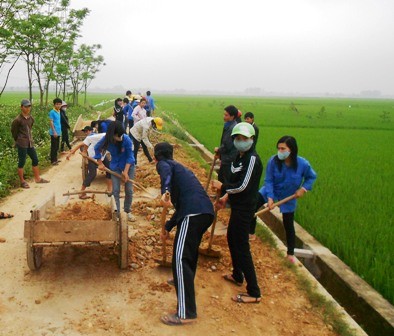 Members of the commune's Youth Communist Union join hands to build the road into the village
The plan aims to upgrade agricultural techniques, improve standard of living for farmers, and develop rural infrastructure.
I earn good profit from farming and have employed local farmers to develop the commune, said Duong Thuc Huu, 29.  He returned to the commune after graduating Hue University and invested VND 1 billion (US$47,506) for the chicken farm.
Since April 2013, the chicken farm has earned net profit of VND 210 million (US$9,975).
The living condition of commune residents has drastically improved due to the plan, said Phan Quoc Duong, 79, resident mushroom farmer.
Tung Anh commune has risen to standards of the plan. The average income of commune residents increased from VND 18.6 million (US$883) to over VND 27 million (US$1,282).  Crop yields increased 2,100 tons per year.  Poverty rates drastically decreased from 58 percent to 2.8 percent.
Fifteen starter companies were established in the commune and 431 large companies currently employ commune workers accounting 99.3 percent of worker population resident of commune.
Each village increased funding for education. Population of students from the commune currently enrolled in higher education increased 105 students annually since 2010. Birth rates have also decreased with most families following the two-child policy.
The commune has achieved such success due to solidarity and mobilization techniques, said Chairman of People's Committee in Tung Anh Commune Phan Tien Dung.
The commune is the hometown of former First Party General Secretary Tran Phu.