A recent trip to Truong Sa (Spratly Islands) helped us understand the lives and feelings of naval soldiers stationed there.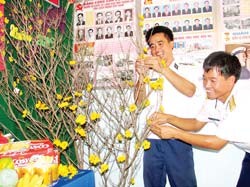 Soldiers taking care of an apricot plant sent to the islands from the mainland (Photo: SGGP)
The Truong Sa brigade's naval vessel HQ 936 left Cam Ranh military port in Khanh Hoa Province with a working group on board, landing on the archipelago to inspect the combat readiness and supply essential items and Tet gifts to the troops.
Sai Gon Giai Phong correspondents who went along had the opportunity to live with the troops during the lead-up to the Lunar New Year.
Lieutenant Nguyen Tuong Thuat, the commander of Len Dao, one of the islands, took loving care of the apricot plant sent by his relatives from the mainland.
Putting it in a vase, he said, "We can do without anything, but not the apricot plant, pork pie, and banh chung (a sticky rice cake filled with pork, black pepper, and green bean paste wrapped in banana leaf)."
Not so fortunate were troops on Da Lon B Island, who had to "make" an apricot plant by using steel strings for the stem and small shells for flowers. "It is my own product, which can replace real apricots in case they cannot be sent from the mainland," the commissar, Lieutenant Nguyen Duc Thu, said.
Asked about the supply of food for the island, Lieutenant Commander Dinh Dinh Thanh, a member of the group, said, "Every year we are supplied food and other essential items in April and October. As for Tet foodstuffs, there will be one more trip to bring us things we need."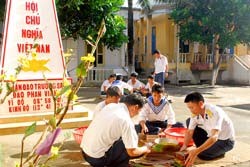 Naval soldiers make banh chung for Tet on Phan Vinh Island, part of the Spratly Islands (Photo: SGGP)
This year, Truong Sa has been provided 100 tons of supplies.
Sub-lieutenant Nguyen Trong Phu said: "This Tet is my fourth on the island. My unforgettable memory is from the first year when I could not communicate with my family and letters could not yet reach me. I looked for a corner to sit and cry".
"But thanks to my comrades, who comforted me, and cultural and sports activities organized by my unit, my homesickness has been relieved and I can now focus on my work."
Sublieutenant Phan Tuan Dung, who has been in the army for 17 years, including six years on Toc Tan A Island, said, "If you think that the island is your home and the sea your native land, you can stand firm here." 
He said in a recent letter to his wife and children, he told them that he was happy on the island and that they should not worry about him.
This, in fact, is a message that most soldiers want to send to their families.
The month-long trip to Truong Sa also helped us recognize the hardships and deprivation suffered by the soldiers. But we saw them overcome all this to fulfill their duties.
When we left them, we said, "People on the mainland are always thinking of Truong Sa and all of you."