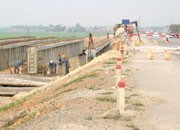 PMU18 is in charge of building roads and bridges.
Minister of Transport Ho Nghia Dung has appointed Le Anh Tuan as acting general director of road and bridge building agency PMU18, an arm of the ministry.
Mr. Tuan was promoted from his post of PMU18 deputy to replace Mr. Doan Van Chiem, who has retired.

Mr. Tuan, born in 1965, is also the chief of the PMU18 Party Unit.

The minister also appointed Nguyen Xuan Hao, born in 1952, deputy head of the ministry's Personnel Department, as acting chief inspector of the ministry.