Vietnam needs about VND1,015 trillion (US$45.18 billion) for traffic infrastructure development in the 2016-2020 period which the state budget can meet only 28 percent, so social capital mobilization is necessary, said experts at seminar hosted by the Vietnam Institute of Economics in Hanoi on Monday. However, they added that the use of this capital source should be careful to avoid a heavy burden on the shoulder of road users.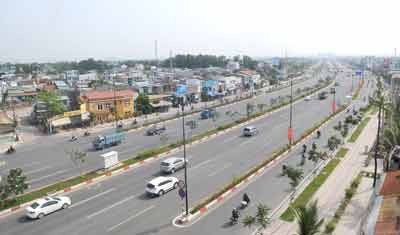 A view of Pham Van Dong Road in Ho Chi Minh City (Photo: SGGP)
According to the Ministry of Transport, social investment attraction in traffic infrastructure with Public Private Partnership (PPP) form has been conducted since 2011. Attracted fund hit the record of VND68,563 billion (US$3.05 billion) in 2013.
It was estimated to reach VND42,572 billion (US$1.89 billion) in 2014 and is expected to touch VND45 trillion (US$2 billion) this year, taking the total number to over VND200 trillion (US$8.9 billion).
Annual social capital source invested in this field usually double the number from the state budget, easing pressure on the Government and ensuring the progress of restructuring plans in the transport industry, the experts said.
Dr. Huynh The Du, lecturer of Fulbright economic program in Vietnam, said international experiences have showed that when GDP per capita of a country hit US$3,000, infrastructure investment will see a boom. Vietnam is going to enter this phase.
If the country continues spending 4 percent GDP on traffic infrastructure as it has done for the last two decades and GDP growth rate reaches 7 percent a year by 2035, capital invested in traffic infrastructure will total US$350 billion.
Its investment fund is less than 2 percent GDP--a high rate compared to that in nations with the same development level as Vietnam, the number will approximate US$200 billion.
Head of PPP project management board under the Ministry of Transport Nguyen Danh Huy said PPP model significant to nations with limited budget like Vietnam, however, it might damage the community in case the Government makes too much concession or investors collect high toll fee in long time.
Sharing the same view, professor La Ngoc Khue, former deputy Minister of Transport, said it misunderstood to think that road construction was easy to attract social capital, a solution for budget shortage.
For profit, investors comprising those under BOT (Build-Operate-Transfer) form will try to increase their works' prices and toll level and lengthen toll collection time, which will put a heavy financial burden on road users' shoulders, hike input costs of the economy and rocket total social investment level, he added.
Therefore, experts proposed authorized agencies to consider risks from using social capital source in this issue. They also agreed that there should have a law on PPP creating legal conditions for private firms to access and use official development assistance capital.