New President Tran Dai Quang was sworn into office in the morning of April 2 after 91.5 percent of the total National Assembly (NA) deputies elected him to the position by secret ballot.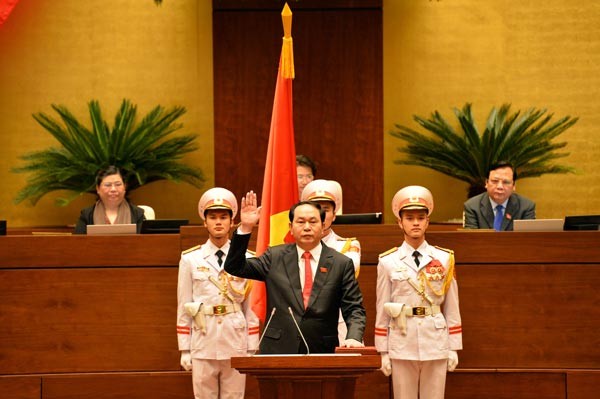 New President Tran Dai Quang was sworn into office in the morning of April 2 (Photo: SGGP)
Quang, who is a Politburo member and Minister of Public Security, was born on October 12, 1956, and currently serves as a deputy of the 13th parliament.
Among the 481 valid votes, 452 (or 91.5 percent of the total 494 NA deputies) elected him as the President.
A resolution on the election of the new State leader was also approved by 93.12 percent of the deputies at the plenary session.
In the following swearing-in, President Tran Dai Quang thanked the lawmakers for voting for him.
He vowed to "absolutely be loyal to the Fatherland, the People and the Constitution of the Socialist Republic of Vietnam, and make concerted efforts to fulfill the tasks assigned by the Party, the State and the People".
He also promised to devote himself to serving the Fatherland and the People, uphold the nation's glorious traditions, and solidify the national great unity bloc, while adamantly and persistently protecting the country's independence, sovereignty, and territorial integrity.
He will also push forward with comprehensive reforms and raising Vietnam's stature and prestige in the international arena, so as to help ensure peace, national independence, democracy, and social progress in the world, the leader added.
At the ceremony, the newly-elected NA Chairwoman Nguyen Thi Kim Ngan and former President Truong Tan Sang congratulated Tran Dai Quang on his election.