Tram Chim National Park is expected to be nominated as a Ramsar Site at a meeting to mark the 41st anniversary of World Wetland Day on February 2, to be held in Dong Thap Province.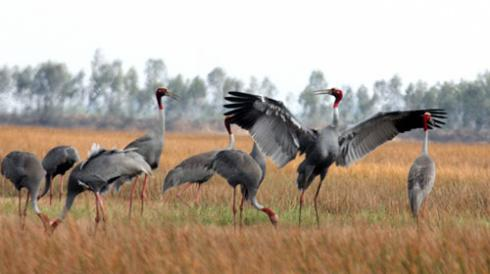 For illustration only
According to environment organisations, the Tram Chim National Park is on the list of natural wetlands that are of international importance for its biodiversity.
The park will become Vietnam's fourth Ramsar site if it is accepted by the Ramsar Convention, after Xuan Thuy Natural Wetland Reserve in the northern province of Nam Dinh, recognised in 1988; the Bau Sau (Crocodile Lake) Wetlands and Seasonal Floodplains in Cat Tien National Park, recognised in 2005; and the Ba Be National Park in the northern province of Bac Kan, recognised in 2011.
Tram Chim is home to over 100 species of plants, 100 species of vertebrate animals, 40 species of fish, and nearly 200 types of water-birds, of which 15 are on the endangered list.
The Ramsar Convention is an international treaty that was signed in Ramsar in Iran in 1971, and has continued to provide a national framework for wetland preservation ever since.