The National Traffic Safety Committee has reported significant declines in traffic accidents and fatalities during the 11-month period.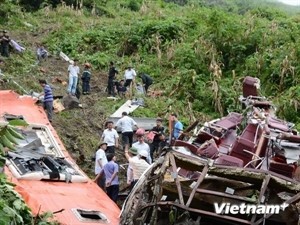 The scene of a bus accident in Lao Cai province on September 1, killing at least 18 and injuring more than 30 people (Photo: VNA)
Between January-November, 23,256 cases of traffic accidents occurred nationwide, killing 8,272 people and injuring 22,434 others.
The figures represented a year-on-year decline of 3,909 cases (14.4 percent), 354 fatalities (4.1 percent) and 4,870 injuries (17.84 percent).
In November alone, there were 2,455 accidents with 797 deaths and 2,461 injuries, showing a decrease of 12.1 percent, 2.09 percent and 15.63 percent, respectively, compared to the figures in 2013.
In the past 11 months, the police handled over 4 million road traffic violations, collected fines of more than VND 2,360 billion (US$112.4 million ) and revoked over 340,510 driving licenses.
Waterway police at localities cracked down on nearly 19,000 violations and fined VND 10.8 billion  (US$ 514,300 ).
Drunk driving is the cause of up to 70 percent of traffic accidents in Vietnam, the Committee said.
In 2013, 9,369 people were killed in 29,385 accidents.