Traffic police should learn to smile and say 'hello' to drivers on the street, said the Head of the Traffic Police Office, Pham Van Thinh, at a workshop for some 400 policemen on Wednesday.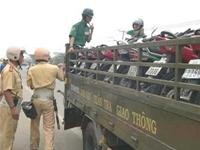 Traffic police on duty 

The workshop aims to modify the manners of traffic officers who are often seen as being peevish or imperious, and to prevent misconduct and authoritarianism.

Officers were also reminded to say 'thanks', not only when driver hand over their licenses but also when they pass signed traffic violations back to them as well. They were also encouraged to say "sorry" for any misconduct on their parts.

Around 50 wrongful acts were listed in the class and it was clearly spelt out that, if a police officer were to engage in any of them, they would be punished under the law.

Lecturers of the class are professors and experts of psychology, and other senior police officers.