Traffic gridlocks around ports

Almost every day when container trucks leave from their stops with cargo, the routes from and to Cat Lai port in District 2, Ho Chi Minh City is jam-packed with vehicles. Dozens of collateral streets and passover bridges have been built in an attempt to relieve congestions for this area, among which are My Thuy intersection and Ky Ha bridge, said Le Ngoc Hung, Director of Urban Traffic Management Area number 2.
In reality however, a lot of structures could only remedy the situation for so long before it happens again. 25B intercity highway is a notable example, having helped tremendously in solving traffic jam around Cat Lai port and Hanoi highway, before the situation repeats itself just several years later.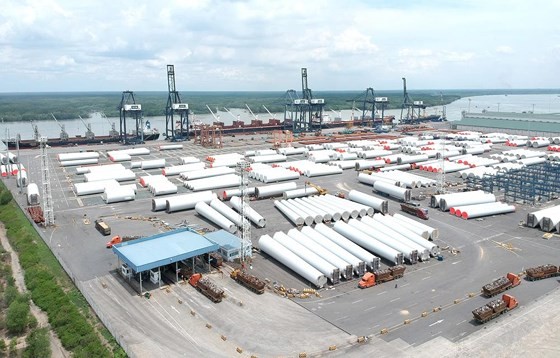 Saigon International Terminals Vietnam (Photo: SGGP)
Not to mention, the eastside coasts are witnessing most of HCMC's major urban developments. Although the city's network of ports were relocated away from the center years ago, many urban housing projects have been following since, hogging up spaces around Cat Lai port. The traffic burden not only weighs upon Cat Lai port's transportation but also on the locals' convenience and safety when traveling. It is indeed a mind-boggling task for city officials.
Empty harbors and roads in others
In sharp contrast, Cai Mep – Thi Vai port in Ba Ria – Vung Tau which is just a few dozen kilometers away from Cat Lai is not welcoming much traffic, both in trucks and cargo ships, despite its favorable sea currents and vast area for construction. The Vietnam Maritime Administration have made efforts in redirecting goods and traffics toward Cai Mep – Thi Vai but have not seen remarkable success. The fact that this port was initially planned to be built into a deep-water port and eventually an international seaport for the whole Southern region of Vietnam is not doing it much service either.
Additionally, Hiep Phuoc port in Nha Be district is also seeing a low volume of traffic. According to experts, the main reason this port is not meeting expectations is due to the riverbed's rapid sedimentation, which prevents it from getting traffic from heavy ships.
Reports from Vietnam Maritime Administration have in fact shown a gradual reduction in cargo volume coming through HCMC's ports, and more so through other ports. In HCMC, the overall cargo volume through seaports went from 65.2 percent in 2013 to 55.9 percent in 2018. At Cai Mep – Thi Vai port, overall volume was 30.6 percent in 2013 and slowly rised up to 34.1 percent in 2018. For container goods, HCMC, Dong Nai and Binh Duong saw 82 - 0,2 - 17,8 percent in volume respectively in 2013, which shifted to 63,6 - 6,3 - 30 percent in 2018.
Finding a suitable port model for Mekong Delta
The port network in Mekong Delta belongs the Port Network No. 6 as per the government's zoning. Currently, there are 7 ports and 31 harbors in the whole region (14 for general and 17 for specialized purposes), with a total capacity of 20.7 million tons per year.
According to a report from the Ministry of Transport, in 2017 the total volume of goods going through this port network was 19.3 million tons, reaching the average growth rate of 26.26 percent, 12.1 percent higher compared to that of the whole country. In addition, the average volume of container goods within 5 years (2013-2017) reached over 36 percent.
Meanwhile, the Port Network No. 6 can only handle about 20-25 percent of the region's total sea freight volume. High demand for coal at thermal plants in Mekong Delta results in up to 70 percent of the region's cargo to be transported by road to Port Network No. 5, increasing transportation costs.
In order to improve waterway transportation's capacity, in 2009, the Ministry of Transport implemented a the opening of Quan Chanh Bo canal and Tat canal for large vessels to enter the Hau River. However, according to Mr. Nguyen Minh Toai, Director of Can Tho City Department of Industry and Trade, after being put into use for a while, Quan Chanh Bo canal has experienced very rapid sedimentation, making it impossible for large cargo ships to pass through at several points.
Currently, the Ministry of Transport is requesting to adjust planning for Soc Trang seaport. The project is invested by socialized sources, with a total estimated capital of over VND40,000 billion. This investment is raising many questions surrounding the national budget as well as the actual efficiency in executing this project, as many experts have warned against the sedimentation in the rivers that are part of this project.