The northern mountainous Tuyen Quang province was a center of radical activism during Vietnam's revolutionary struggle. Visiting the historical site now, it's impossible not to notice the area's strong development, with many construction projects worth hundreds of billion VND in value.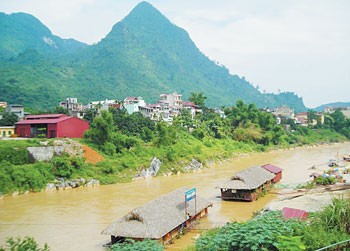 Tuyen Quang town locates on the peaceful Lo River.
Tuyen Quang is located on the peaceful Lo River 165 kilometers northwest of Ha Noi.
The province is making all efforts to speed up its economic, cultural and social growth alongside neighboring provinces.

Tourism is one of Tuyen Quang's strong points. Visitors are very interested in many tours to historical, cultural and ecotourism sites likely Tan Trao hamlet, Hong Thai communal house, Na Lua hut and more.

Tan Trao lies in a small valley between the mountains and jungle in Son Duong district and is roughly 200km from Hanoi.

The main places of interest are Tan Trao Communal House, Hong Thai Communal House, and a banyan tree and a hut where Ho Chi Minh lived from June to August 1945.

Tan Trao was used as a resistance base before August 1945 and was the provisional capital of the patriotic forces headed by late President Ho Chi Minh. The Communist Party of Vietnam held several important meetings there, especially in August 1945.

The wild beauty of the forest and mountains surrounding the Na Hang hydroelectric plant, including My Lam Atream, and sacred old pagodas and temples that dot the hills, attract thousands of visitors every year.

Tuyen Quang is also famous for its beautiful women with white complexions, good figures and shy smiles.

People believe that because the province was the capital of the Mac Dynasty (1527-1596), many imperial concubines produced beautiful lineages.

Tuyen Quang's fresh air also makes for a high quality of life.

The province is also home of several ethnic groups such as Tay, Dao, Cao Lan, Mong, Thai and more.

Tuyen Quang town was recognized as a city in 2002. The city has a strong history of economic, cultural and social development but it still keeps the special cultural beauty of a traditional revolutionary zone.