The Ministry of Industry and Trade yesterday sent its report to the  Prime Minister about the result of inspection over a fish sauce quality survey released by the Vietnam Standards and Consumers Association (Vinastas)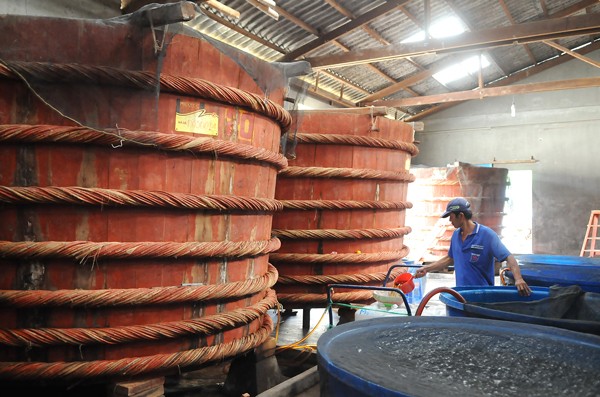 A house where to produce traditional fish sauce (Photo: SGGP)
In its report, the ministry suggested the PM to ask Vinatas to publicize a correction of wrong information on traditional fish sauce  causing concern among consumers last October as well as impose  punishment on individuals involving in the case.
As per the Prime Minister's guideline to verify Vinatas' survey of traditional fish sauce quality, the ministry has set up an inspection team to probe Vinatas' activities.

Inspectors concluded that in the period 2011-2015, Vinatas carried out its activities wrongly including assignment of deputy secretary.
Worse, Vinatas' survey of fish sauce is not transparent and reliable because it was carried out by Vinatas' chairman and some individuals and Vinatas admitted the survey was funded by an outside organization.
The ministry also submitted the PM to ask the Ministry of Home Office to verify Vinastas' legal status in activities of protecting consumers' right as well as to dress the association's remaining.
The Ministry of Health and the Ministry of Industry and Trade will carry out probe Vinatas' activities because the association showed infringement of the law.
As per the Ministry, Vinatas' wrong information of fish sauce violated the item No.12 in charter 5 of the food safe regulation.
Related articles:
Vinatas violates regulation on announcing fish sauce information
Ministry denies report of fish sauce by Vinatas
Fish sauce contains high level of arsenic: Test results
Enterprises expect government's official announcement of fish sauce