Le Van Tach, a 35-year-old engineer at Toyota Motor Vietnam (TMV) was complimented and rewarded by Doanh Nhan and Phap Luat Magazine as well as the Anti-trade Fraud Consumer Association (AFCA) on Monday for exposing three serious technical flaws in Toyota cars sold in the Vietnamese market.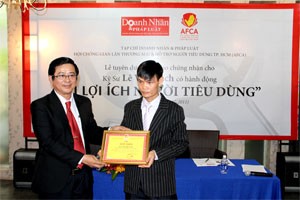 Tach (R) receives "For the customers" certificate from a representative of AFCA (Photo: afca.vn)
Lawyer Nguyen Van Hau, Vice chairman of AFCA and some lawyers have offered free legal services to Tach to protect his rights, should it become necessary to defend his labor contract with Toyota motors.
Tach is presently on a three-month suspension on 50 percent salary pending investigations. This decision was made by TMV on June 13 this year and announced at a press conference.
At the rewards ceremony, Tach said he expects TMV to offer an apology and fix the technical errors as a responsibility to its customers.
In March, Tach exposed three flaws in more than 73,240 TMV cars and lodged a complaint with the Vietnam Register. The discovery led to the recall of more than 65,000 faulty cars and forced the largest carmaker in Vietnam to convey a public apology to its customers on April 15.
The Ministry of Industry and Trade said last month that only around one twentieth of flawed cars from Toyota Vietnam have been sent in for checking after the engineer's exposure.
More than 4,000 cars produced by TVM have been brought to a free repairing campaign by the firm from mid April to the end of May, the ministry's Competition Administration Department said in a statement.