The top leaders of Vietnam and Laos have agreed to give all priorities to strengthening and promoting the bilateral special friendship and comprehensive cooperation, considering them valuable assets which must be preserved and handed to future generations.
Vietnamese President Nguyen Minh Triet and the Party General Secretary and President of Laos, Chummaly Sayasone, reached consensus on this issue during their talks in Vientiane on August 24, after an official welcome ceremony held for the former.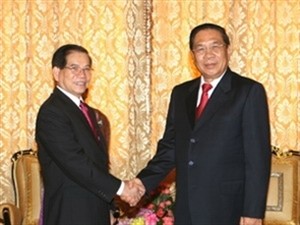 Lao President Chummaly Sayasone (R) greets his visiting Vietnamese counterpart Nguyen Minh Triet in the Lao capital of Vientiane on August 24, 2010 (Photo: Vietnam News Agency)
President Sayasone warmly welcomed the visit of President Triet, his wife and a high-ranking delegation from Vietnam, and saying it would contribute to the enhancement of special ties and comprehensive cooperation between the two nations.
The Lao leader applauded the important achievements Vietnam has recorded in stepping up socio-economic development, surmounting adverse effects of the global economic crisis and posting a GDP growth rate of 6.2 percent in the first half of 2010.
He spoke highly of Vietnam's outstanding role and its great contributions in regional and international arenas, especially in its capacity as Chair of the Association of Southeast Asian Nations (ASEAN) since the beginning of the year.
President Sayasone also praised the close coordination between the two nations' ministries, agencies and localities in implementing agreements reached by their senior leaders, as well as cooperation deals signed between the two governments.
For his part, President Triet said he hoped that the visit would help further advance the friendship, special solidarity and comprehensive cooperation between the Parties, States and people of Vietnam and Laos.
The Vietnamese leader expressed his delight at the successes Laos has made in maintaining political stability, security and national defense, fostering its economic, cultural and social development and improving living conditions of the people.
Both host and guest noted with pleasure that the Vietnam-Laos special solidarity has been reinforced, and the mutual trust and attachment between leaders and people of the two nations have been enhanced through high-level visits as well as meetings for exchange and experience sharing of ministries, agencies and mass organisations at all levels.
The two leaders were unanimous that bilateral economic relations have been flourishing, bringing practical benefits to both sides. Vietnam is among the top foreign investors in Laos, with 219 projects capitalized at 2.4 billion USD at present.
They agreed to soon accomplish a project to improve the quality and efficiency of bilateral cooperation in education and human resource development.
The two presidents also agreed to open a Vietnamese language faculty at Laos National University and soon begin the construction of a secondary school in Luang Prabang province, as well as a number of other educational cooperation projects.
Triet and Sayasone agreed to step up cooperation in security, national defense and in the fight against cross-border crimes, build a common border of peace, friendship and cooperation, and speed up the upgrading and erection of more markers along the borderline.
The two presidents promised to accelerate the establishment of a Vietnam-Laos joint venture airline, as well as the compilation of a book on Vietnam-Laos relations and the construction of a monument dedicated to the late President Ho Chi Minh in Laos.
They also agreed to foster cooperation in other fields, including healthcare, agriculture and rural development, infrastructure, tourism, culture, post and telecoms, and two-way trade.
During the talks, the two leaders also discussed a number of regional and international issues of mutual concerns. They expressed their pleasure at bilateral cooperation and mutual support in foreign affairs, as well as close coordination at the United Nations, ASEAN and the ASEAN Inter-parliamentary Assembly (AIPA) and other forums.
President Triet took this occasion to invite the Lao leader and his wife to pay an official visit to Vietnam. President Sayasone expressed his thanks and accepted the invitation.