When the rain falls, the people who live in the Mekong Delta think about ways to make money, when they're not shoring up the endless miles of dykes and embankments, that is.
Do Vu Hung, deputy director of the Department of Agriculture and Rural Development in An Giang Province, reckons the locals no longer fear the floods these days; in fact, they relish the opportunity brought by the rain to make some extra cash.
And they are ready. Some 223,000 hectares of the summer-autumn crop has been harvested, 250 maintenance crews have been set up, 170 schools where children are safe from floodwaters have been built, and thousands of people have been evacuated from landslide-prone areas and housed in safe quarters.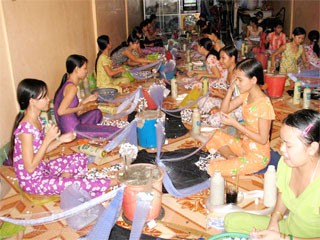 Making fishing nets in a private home in Can Tho. More than 1, 000 people make nets for a living in the Mekong Delta
In Long An, Tien Giang, Vinh Long and Kien Giang provinces, the authorities and the people are prepared for the rising waters.
Thanks to more spending on infrastructure and some careful preparation, the flooding and its associated damage will be that much less this season, Mr. Hung says.
Dr. Ho Viet Hiep, director of the An Giang Department of Education and Training, says that children will keep going to school even after the floodwaters arrive (the new school year began on August 27).
Happier and more secure, the people are planning to take full advantage of nature to make some extra money. They boast of knowing 32 ways to raise freshwater crays and other fish and to grow vegetables and mushrooms.
Doan Minh Triet, vice chairman of the An Giang People's Committee, says it's much cheaper to farm crayfish around this time as there are more small fish, snails and shellfish in the floodwaters, and a cray farmer can clear between VND40 million and VND60 million (say US$2,500 to US$3,800).
Others can make VND30-50 million per hectare from growing shallots and such.
In Dong Thap, quite a few people make a living from water caltrops. Local farmer Pham Van Sau says there's little effort involved in growing the tree yet he makes VND20 million from it, and that's decent money in his corner of the world.
In Vinh Long, they make the most of the floodwaters by cultivating mushrooms.
People who are skilled at making bamboo fish traps are thriving at the moment. Mrs. Huynh Thi Phuong of Lai Vung District, Dong Thap says her family stay up late every night making traps, an activity that nets them VND5 million.
The boatyards in Dong Thap's Long Hau District, An Giang's Cho Moi District and Hau Giang's Nga Bay Town are busy too.
Nguyen Cong Can, who runs a boatyard in Long Hau, says his people are going flat out but cannot keep up with the huge number of orders.
Because of the overwhelming demand, the price of a small boat rises steeply in the wet season from the normal range of VND300, 000 to VND500, 000. The same happens with knitted fishing nets.
To help farmers in flood-prone areas of the lower Mekong, the government and several state-owned banks have lent them VND1.2 billion to buy seed and equipment.
Last year, these people made over VND1,331 billion in the flood season, according to the An Giang Department of Agriculture.