Prime Minister Nguyen Tan Dung has issued Decree 46, under which   licensing regulations for foreign workers will be tightened, effective August 1.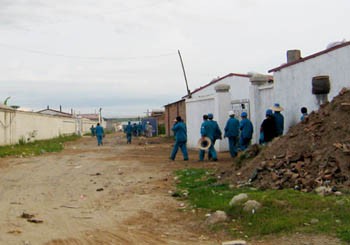 Several Chinese workers are employed in factories in Vietnam (Photo: Thanh Nien)
Under Decree 46, investors will have to give priority to domestic workers if they meet the requirements of the employers.
Foreign bidders can now send proposals to the people's committees of concerned provinces and cities to provide workers for them. After 30-60 days of receiving a proposal, if authorities are unable to provide enough human resource, foreign bidders can go ahead and recruit foreign workers.
Additionally, the bidders have also to adhere to necessary procedures to obtain licenses for their foreign workers to work in Vietnam.
The people's committee will have 60 days to provide more than 500 workers and 30 days to provide less than 500 workers.
Investors must monitor foreign bidders, ensuring that they are following the recruitment regulations and that the foreign workers are obeying the Vietnamese law.
However, Decree 46 has clauses that welcome high-quality human resources under which certain groups of foreigners do not need a license to work in Vietnam.
These include heads of representative offices and representatives of non-governmental organizations, foreigners reshuffled within companies in certain service industries, those providing professional and technical consultancy services, experts working in official development assistance projects and those licensed by the Ministry of Foreign Affairs to work in the field of media.
An informal survey states there are 70,000 foreigners from 60 countries working in Vietnam presently. Ho Chi Minh City alone has about 20,000 foreigners working here.