The Flood and Storm Prevention Steering Committee in the northern province of Lao Cai has reported three persons still on the missing list, after a sudden flashflood swept them away on August 31 in Nam Luc Commune of Bac Ha District.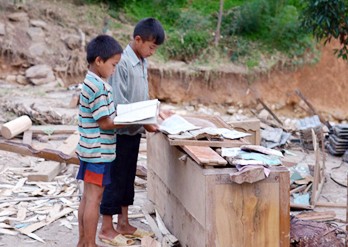 After the flashfloods, students need assistance for the new academic year in Nam Luc Commune in Bac Ha District of Lao Cai Province (Photo: VOV online)
Lao Cai Province has mobilized 600 soldiers from the Military Headquarter base in the province and from the Police Department to conduct search and rescue operations since September 2.
 
The rescue team helped 22 households of the Dao ethnic minority group in the commune, who have suffered the most from the flooding, to clean up their houses and furniture and put life back to normal.
One more missing person was found dead, bringing the toll so far to seven, with three still missing till the afternoon of September 3. Of the three persons missing, two are newborn babies.
The National Hydro Meteorological Forecasting Center said that about three to four medium and heavy rainstorms will hit the central region in September, which might trigger flashfloods and landslides in mountainous areas.
Related articles:
Sixth body recovered from Lao Cai landslide debris
Flashflood in Lao Cai Province leaves 13 dead or missing