Another three quakes shook Bac Tra My District early on Tuesday, closely following the two that caused panic in the area on Monday.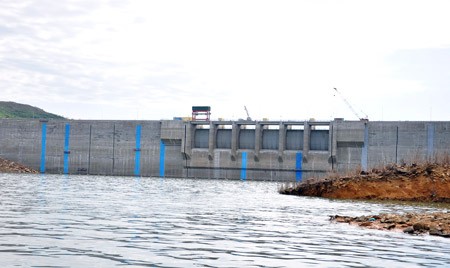 The Song Tranh 2 Hydropower Plant dam (Photo: SGGP)
According to Dang Phong, chairman of the People's Committee in Bac Tra My District, the three quakes occurred at 1am, 4.34am and 4.45am and shook furniture in houses.
Bac Tra My District has experienced five quakes within the last two days with the strongest one measuring 2.7 on the Richter scale.
Since the beginning of September, Bac Tra My and neighboring districts like Tien Phuoc and Hiep Duc have felt at least 20 tremors. Among them, the strongest one was 4.2 on the Richter scale.
According to initial statistics from the People's Committee of Bac Tra My District, at least 17 houses and two schools now have cracks in them following the earthquakes.
"Material damage is not considerable but residents are very anxious and worried as the earthquakes have been occurring for a long time and show no signs of abating," said Mr. Phong.
Associate Professor and Dr. Nguyen Hong Phuong, deputy head of the Earthquake Information and Tsunami Warning Center under the Institute of Global Physics, said that the center did not record any earthquakes on Tuesday.
The above three quakes might be of low intensity while the center's observation system is too far from the epicenter. One observation system is in Hue City and the other in Binh Dinh Province, which are 200km and 400km from Bac Tra My District.
Mr. Phuong said that local authorities should not wait until the Government gives a conclusive report on earthquakes and the safety of Song Tranh 2 Hydropower Plant to begin training residents how to cope with earthquakes and evacuate people to safety.
The Institute of Global Physics is carrying out related procedures to install a quake observation center in Quang Nam Province by the end of this month.
After the installation is complete, scientists will be able to forecast the developing tendency, frequency and intensity of earthquakes in Bac Tra My District as well as in Quang Nam Province.
The People's Committee of Quang Nam Province said that they will assist 2,300 residents, who have been affected by quakes in the Song Tranh 2 Hydropower Plant area, with 100 tons of rice.
The Government is scheduled to meet with authorities of Quang Nam Province and Bac Tra My District and related ministries to discuss water accumulation at the plant reservoir.
Deputy Prime Minister Nguyen Xuan Phuc and a delegation from the National Assembly will meet with voters in Bac Tra My District by September 29, to discuss the phenomena of earthquakes and the safety of the Song Tranh 2 Hydropower Plant.

Related article:
Two more quakes jolt Quang Nam Province