Three people were killed and four others seriously injured when an oncoming train rammed into a car trying to drive across the railway track intersection in Tu Nghia District in the central province of Quang Ngai on Wednesday.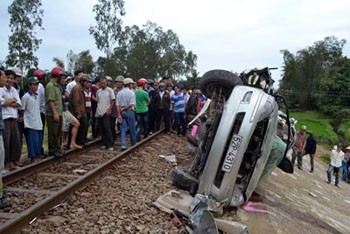 The scene of the accident (Photo: SGGP)
At about 12:30 in the afternoon, 44-year-old Le Thanh Ha, driving a Toyota Innova car with six of his relatives enroute to Nghia Hanh District, attempted driving across the railway track intersection despite a red light signal warning him of an oncoming train.
According to witnesses, other than the red light signal warning there was no fence or railway track barrier.
Ha said that he was not familiar with traffic in that area and was unable to interpret the signal, and as a result their car was rammed with the train coming at full speed, and dragged along the rail track for over 200 metres.
The train no.TN3 however, continued on it journey after the accident. Police investigations continue to look into the accident.